Providence



Manufacturer:

Kuat Drive Yards

Product Line:

Star Destroyer

Model:

Venator-class

Engine Units:

Eight

Hyperdrive System:

Equipped

Shielding System:

Equipped

Armament:

Eight Heavy Dual Turbolaser Turrets
Two Medium Turbolaser Cannons
Multiple Laser Cannons

Crew:

James Anderson (Commanding Officer)
CT-87/11557 (Executive Officer)
Clone Naval Officers
SCUBA Troopers
Clone Troopers

Era(s):

Rise of the Empire

Affiliation:

Galactic Republic
Republic Navy
"What's so special about the Providence? No upgrades, no armor reinforcements? How can you expect to last in a dogfight?"
"It's not always about firepower... It's about the symbol and what it represents."
-Admiral James Anderson and a ship inspector
The Providence was a Venator-class Star Destroyer that was captained by Admiral James Anderson and co-captained by Lieutenant Commander CT-87/11557 "Shortstop" during the years of the Clone Wars.
Before the Clone Wars, the Providence originally belonged to an unnamed Republic Navy officer, who performed numerous feats with the ship before retiring, thus, earning the ship great renown. It is unknown what name the ship went by during its service under this unidentified man.
Biography
Edit
Following his graduation from G.N.O.A and promotion to Captain, James named his newly-assigned flagship, a Republic Star Destroyer, the "Providence". In tribute to the man who once used the Providence, James decided not to upgrade the ship in any form or way.
It saw action during the Third Battle of Kamino, where it assisted the Republic blockade in fending off the invading Separatist ships.
The Providence later transported an entire battalion of SCUBA Troopers to the Mon Calamari system to help the locals in a civil war against their neighbours, the Quarren.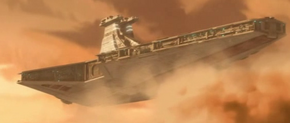 Appearances
Edit
ARC Troopers (First appearance)
Water War
"This page is named off of the HMS Providence, a 17th Century British Royal Navy ship featured in the Disney movie, Pirates of the Caribbean: On Stranger Tides." - ARC Trooper Tal