Jin Crig

Homeworld:

?

Born:

?

Species:

Human

Gender:

Male

Height:

?

Hair color:

Black

Eye color:

?

Era(s):

Rise of the Empire

Affiliation:

Jedi Order
Galactic Republic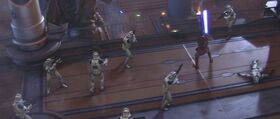 Jin Crig was a male Human Jedi who lived during the time of the Clone Wars and the final years of the Republic.
Biography
Edit
During the Great Jedi Purge, Jin defended Jedi Temple when it fell under attack by the 501st Legion's 7th Platoon and the Midnight Operations, who were acting on the orders of Supreme Chancellor Palpatine after he declared the Jedi traitors to the Repulibc.
Jin took up a defensive position on the upper levels of the Temple, holding his ground against the Clone troopers. Despite his valiant efforts however, Jin was overwhelmed; being surrounded by 7th Platoon troopers and gunned down, killing him.
Appearance
Edit
Star Wars: III: The Revenge of the Sith (First appearance)