Ascension Technologies

Founded:

29 BBY

Founded By:

?

Products:

Weaponry
Combat Armor

Function:

Weapons-Manufacturer

Era:

Rise of the Empire

Affiliation:

None
"We Make Technology Rise."
-Ascension Technologies motto

Ascension Technologies was a weapons-manufacturing company that operated during the Rise of the Empire Era.
Biography
Edit
Ascension Technologies was founded seven years before the start of the Clone Wars and, amazing for such a young company, was able to earn much profit. Although it was nowhere near the renown of BlasTech Industries, Ascension Technologies earned a large reputation for the guns it manufactured. The company focused on creating weapons that were extremely rare to the galaxy, experimenting and bringing unique traits to each gun they made. Ascension Technologies also produced quality combat armors for several lines. Because of this, products were often favored by mercenaries and pirates. Even famed bounty hunters such as Cad Bane, Boba Fett, and Bossk sometimes made use of their equipment.
During his mission on Quarzite, Boba Fett used combat armor that was produced by Ascension Technologies.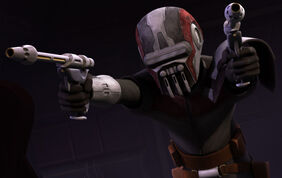 Ascension Technologies' most prized and best-selling product was the "X-77 Blaster Shotgun".